The holidays are a pretty magical time in the eyes of a toddler.  Neighbourhoods become enchanted with lights and decorations.  The thought of Santa puts their minds at wonder and his arrival creates anticipation that is only found once a year.
This year is the first year where our three-year-old, Reese, is starting to understand a bit more about what Christmas is all about.  Although flights have been booked to visit family, leading up to Christmas the magic will start here, at home, so when we arrive on the East Coast, the excitement will be there with us.
Little hands carry a lot of energy, but very little patience.  I wanted to include Reese as we decorated the house for the holidays.  Knowing that she wouldn't have the patience to enjoy every element of it, here are 3 ways we came down to her level and kept her in wonder as we prepared for the holidays.
Do the dirty work first – We all know how elevated a toddler can be.  They can become easily excited over the smallest thing.  When prepping to decorate, taking some time in the evening to do the heavy labour will go a long way.  I set aside an evening to venture to my local Lowe's store to shop after doing some online research first at Lowes.ca. Not only was it a fun, kid-free evening for me, but taking a toddler anywhere doubles the amount of time it takes to complete a task.  On the following evening, I set up the tree, put the garland up on the banister and selected the decorations that we were going to use.  When it came time to decorate, were focused on enjoying the moment.
Surprise and Delight – We were lucky that the Sweet Noel collection was a nice hybrid of elementary, kid-approved colors with hues of bright blue and green, but mature enough that as a collection it looks uniform and vintage.  We were even a bit more excited when the colors from Sweet Noel carried through to our favourite Disney characters.  Lowe's has a great selection of Frozen holiday décor that was a sweet surprise for Reese since she didn't expect to see Anna, Elsa, and Olaf on our tree.  This little surprise bought quite a bit of time, and endless smiles while we decorated.
Encourage Questions – Three is a very question-heavy age.  Even though this is Reese's third Christmas, this is the first year that she has a bit of an understanding of what's going on. We used this time to set up some milestones for things that are going to happen over the next few weeks: upcoming visit to Santa, packing for the trip to Grandmas house, and researching what she wants to ask Santa for.  We spent a lot of time looking back, at the past three photos of us with Santa — especially the one where she was only two weeks old. I personally enjoy having these tangible memories included in the décor to keep the conversation going long past the evening of decorating.

The right décor provides the best backdrop for what really matters the most over the holidays — spending time with those you love.  No tree, ornament, or garland could ever give the same joy that seeing family and friends will.  I'm grateful that Lowe's helped me create new memories with my little family that we'll look back on for years to come.
Don't forget to follow Lowe's on social media / Facebook / Instagram / Twitter / Pinterest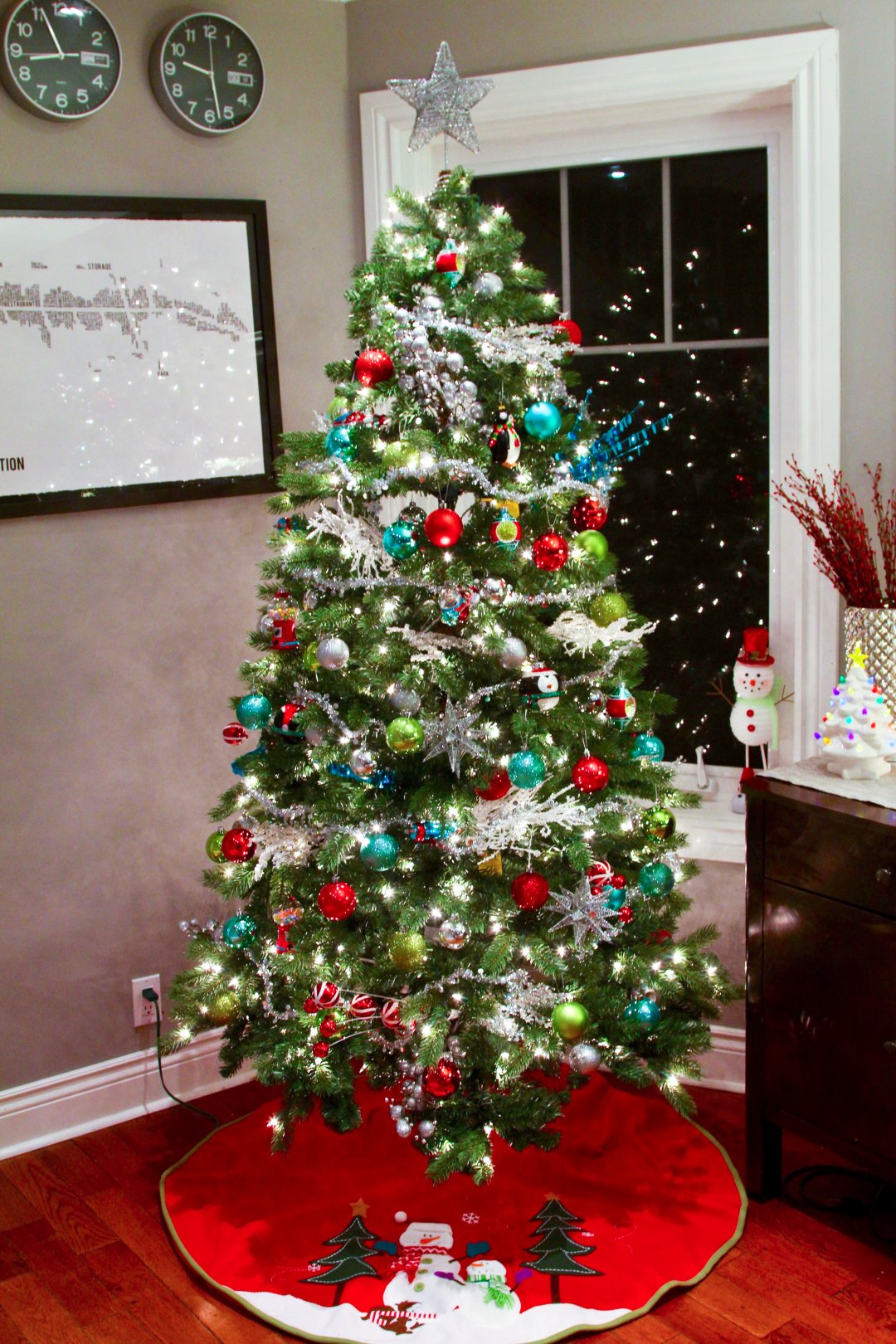 This post has been sponsored by Lowe's Canada, but all opinions are my own!